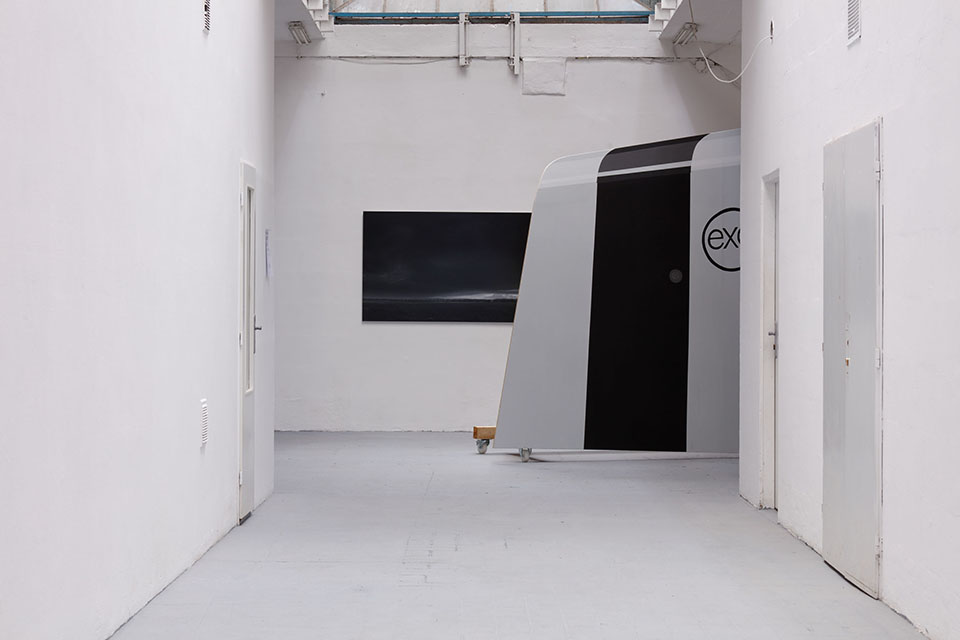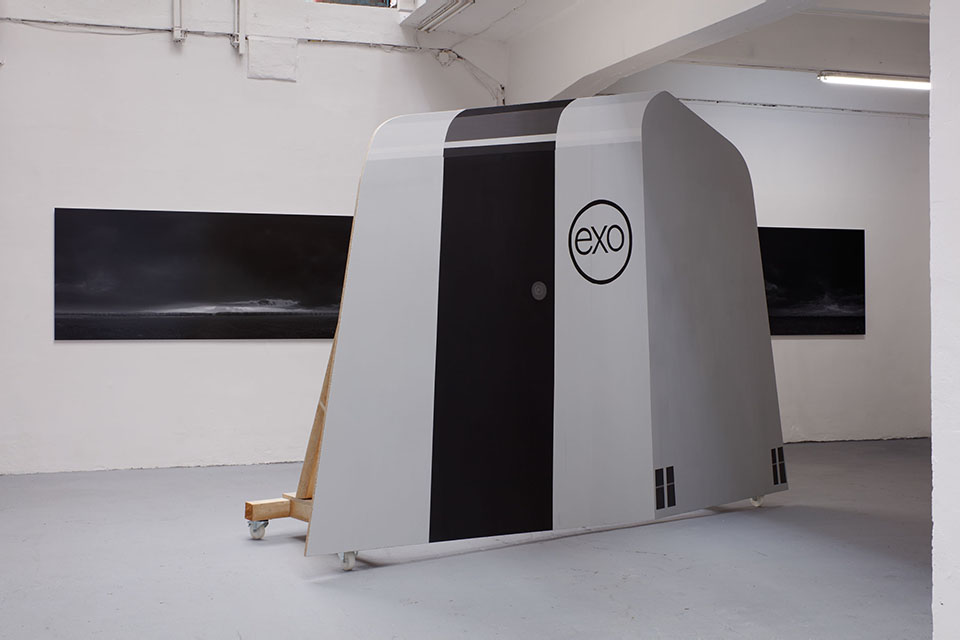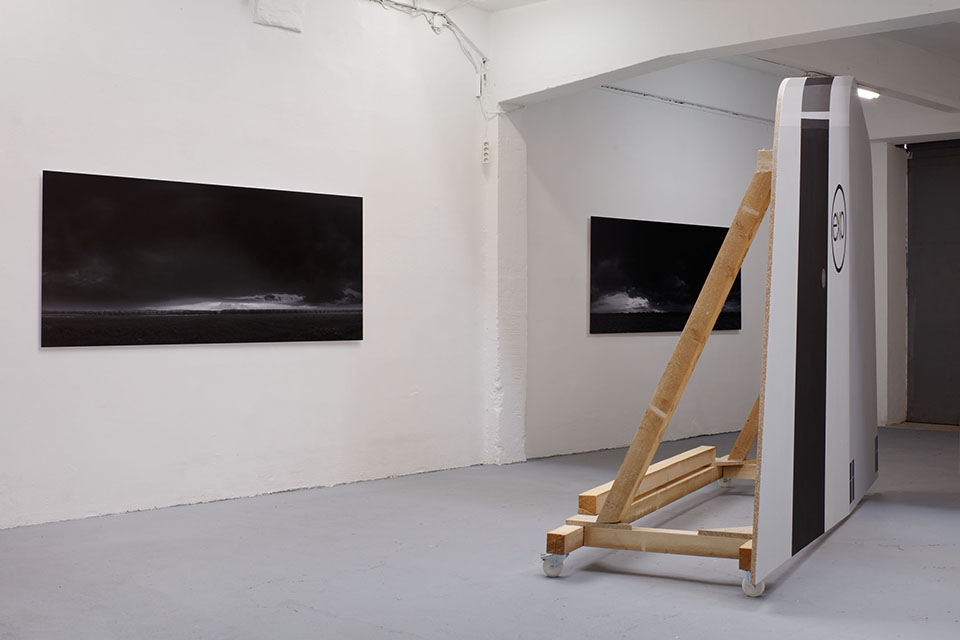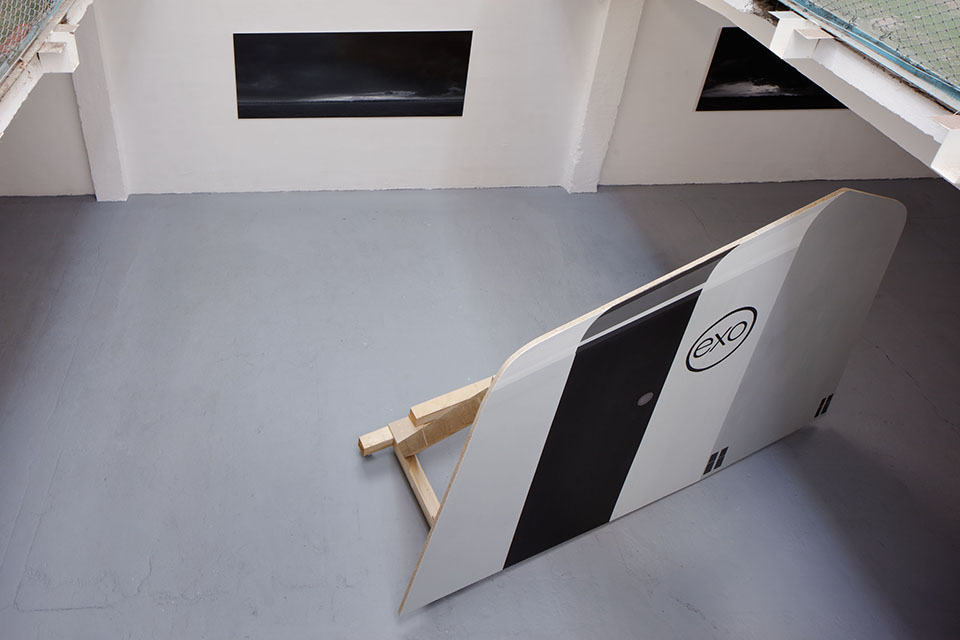 A Full room and sixty-two kilos extra
artists: Daniela Baráčková, Tereza Severová
curator: Tereza Jindrová
EXT. YARD IN FRONT OF WORKSHOP – DAYTIME, LATE AFTERNOON
Low-lying industrial buildings frame the scene right and left. In their midst is a sand and gravel-covered yard. We see an open, flat suburban landscape set with scrubby weeds. The sun is to the right and shining sharply through the clouds.
The SHOT closes in on the door and ZOOMS in on an opening, view of interior.
INT. WORKSHOP
The view slowly moves through the space of the workshop from left to right and an extensive hall divided by wooden beams supporting the roof.
A NEW SHOT of the workshop space, this time from the right. The shot turns to the concrete floor, where the outline of an iron hatch is visible.
CUT
INT. BUNKER
A dark, approximately meter-wide room with a low ceiling. A red light bulb illuminates the back wall. Seated individuals lean against the wall, their knees nearly touching those of the individuals sitting across from them.
A voice from the radio
… According to current expert estimates, the situation should culminate around six p.m. A curfew is in force for all of Sector V6. We recommend that those in Sector V7…
MORE DETAILED VIEW of the individuals seated on the left.
MAN 1
(reproachfully to MAN 2)
What about the statues? Are you really going to just leave them there like this?!
SHOT of MAN 2. Greater DETAIL of the character.
MAN 2
I wanted to tell you in different circumstances, but I'm done with it.
Closer SHOT of MAN 1. He gets up so abruptly that he hits his head on the ceiling.
MAN 1
(yelling)
There is the sound of banging. All eyes look toward the hatch. From above and as if in the distance there is the faint sound of someone calling: "Can you hear me? Let me in…" A WOMAN and MAN 2 exchange looks.
MAN 1
No, this can't be! He came all the way here? I hope you don't plan on letting him in?!
SHOT of WOMAN AND MAN 2 across from her.
WOMAN
(to MAN 2)
It'll be here any time now…
DETAIL of face of MAN 2. He is frowning and looking at the WOMAN.
CUT
DETAIL of the hatch as it creaks open. A ray of light comes through the opening, and a sharp draught blows a thick cloud of sand and dust inside.
CUT